Morbus.
Exhibition + Book
Tontine Building, Glasgow, UK
Featured Artists: Elina Bry, Alexis Bulman, Caitlin Higgins, Flannery O'kafka
Morbus comprised a contemporary art exhibition and a book of collected works exploring physical limitations of the human body relating to dysfunction, restriction, or illness. Together, the pieces selected emphasize the natural, inevitable, and universal experience of inhabiting an unwell body.
In acknowledging the spectrum of health and ability that exists between the polarised states of able and disabled, normal and abnormal, well and unwell, Morbus aims to encourage engagement with concepts of body occupancy, ethics, repair, and the physical body's impact on the psyche of the individual.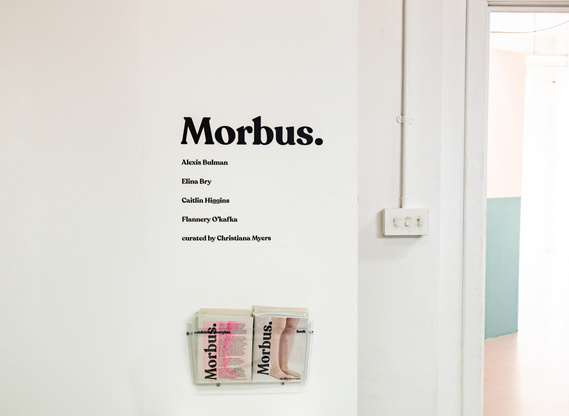 Exhibition
Video installations, "Heartache" by Elina Bry and "Up-stack, Down-stack" by Alexis Bulman illustrate each artist's experiences and frustrations in dealing with physical conditions through the medical system, each using their own body as a medium. Caitlin Higgins' ironically soft sculptures of fitness equipment speak to the lightness that can be found in vulnerability. Meanwhile, Flannery O'kafka's visceral photography depicts the wider communal and familial experience of grief within the human condition. For an audio reading of the exhibition handout click here.

Book
The book features contributions by the exhibiting artists as well as others and includes essays, poetry, photography, and interviews. To view the Morbus book click here. For an audio reading of the book click here.
GSA Sustainability in Action

Morbus was funded in part by GSA Sustainability and was also named runner-up for the Sustainability in Action Prize, both which support projects addressing environmental, social or ethical issues.
Morbus has supported artists'practices that have the potential to educate the public and de-stigmatizeconversations surrounding the unwell body. The aim is to encourage more artists toproduce work about their physical illnesses or disabilities and demonstrate theimportance of exhibiting contemporary art on this topic.
The use of sustainable materials in theproduction of printed matter for Morbus was not only more socially andenvironmentally conscious but intimately tied with the themes of the project. The printing methods, fonts, and papers used were all consciously selected to benefit the health and experience of the viewer.