Third Shift: Constellation Series
Exhibition Curator + Public Art Festival Coordinator
Trinity Royal Heritage District, Saint John, New Brunswick
Constellation Series artists: Nathan Cann, Collectif HAT, Sarah Jones, KC Wilcox, John Edward Cushnie, Amy Ash, Chris Donovan
THIRD SHIFT artists: Lex Stephensen, Roberto Santaguida, Jessica Palmer, Kamille Cyr, Arianna Richardson, Ahreum Lee, Jared Perry, Alexis Bulman, Marissa Sean Cruz, Anne-Marie Donovan
THIRD SHIFT is a contemporary art festival presented by Third Space, a not-for-profit artist run centre in Saint John, New Brunswick, that includes temporary installations, interventions, performances, projections, and events. The festival spans three days and includes a variety of presentations and workshops before concluding with a night-time public art exhibition throughout Uptown Saint John.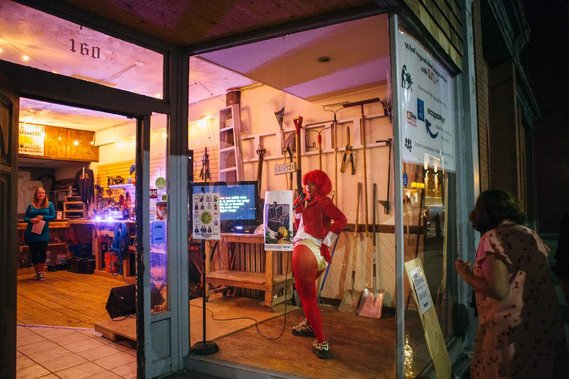 The THIRD SHIFT Constellation Series is a curated selection of works by New Brunswick artists dispersed throughout the art-after-dark exhibition. Audiences are given the opportunity to see life in the province through the eyes of young artists as they engage with its cultural, architectural and natural landscape. Not unlike a constellation in the night's sky—each work shines on its own—but after observing and considering them collectively, new meanings can be inferred while a larger picture takes shape. Together, the works address the region's natural and built environments, and how we, as humans, have the agency to impact each one through either neglect or care.
In Nathan Cann's monoprint diptych, Ghosts, he records and fragments imagery of Uptown Saint John's historic architecture. Using photographs of hundred year old doors, alleyways, and industrial spaces—some in their current state and others from archival sources—time and space meld together, encouraging viewers to consider the legacy of these spaces, their enduring presence or their ghostly absence.
KC Wilcox's cast sculpture series Shedding draws attention to the traces we leave even in our absence. In focusing care and attention on objects otherwise deemed trash, Wilcox draws awareness to the process by which an object becomes unwanted, unsheltered, and thereby wild. Given that all of the objects she cast were found on Tin Can Beach—the last remaining natural coastline on Saint John's south peninsula—they carry with them a particular reverence that attests to the negative impact humans have had on a landscape long-occupied and monopolized by industry. Chris Donovan also focuses his work on the impact of industry in Saint John in his photographic series The Cloud Factory. Dononvan consistently spends time with communities in the city who are impacted by the heavy industry that surrounds them. In doing so his work reveals a cycle of environmental classism where generations of people are subjected to pollution that perpetuates poverty and at times illness.
In his performance piece The Rúnatal Prototype John Edward Cushnie tested the limits of the human body in its surrounding elements by spending three days and two nights in an ash tree. Cushnie based this exercise in endurance on a feat described in Norse mythology where the god Odin underwent a quest for wisdom in a sacred ash. Cushnie had to make compromises to the original narrative as the initial myth would not be physically possible for a human to replicate and survive. The performance therefore speaks to human vulnerability in nature and attests that regardless of human advancement, we are still at the mercy of the elements. In Collectif HAT's audiovisual installation, Variations Botaniques/Botanic Variations, they allow nature to literally overtake the man-made environment by projecting a variety of New Brunswick flora onto uptown architecture. As flowers, leaves, and boughs undulate and move across the brick surface, the threshold between the built environment and its surrounding ecosystem is blurred, providing an opportunity to reflect on the importance of green space in contemporary urbanisation.
Sarah Jones' installations that comprise In Following Our Common Desires/Small Acts of Bipedal Resistance demonstrate the ways in which humans, specifically pedestrians, operate within and occupy urban green spaces. By tracing desire paths—trails made visible by foot-traffic that do not follow formally delineated walkways—Jones aims to remind citizens of the agency and autonomy they possess within their own lives as well as within the environment they inhabit. Constellation Series artist in residence Amy Ash also ventures to empower her audiences to create the world they wish to see. Ash's participatory project Posing the Pluriverse asks its diverse range of participants to imagine all possible realities and dimensions. Members of l'Arche, YMCA Newcomer Connections, and the public at large have created collages imagining their ideal future, or utopia. Ash then expands the collages to a scale larger than life and uses them as a photo backdrop allowing participants to enter the worlds of others and document their journey. By making visible many ways of living, thinking, and knowing Ash's work encourages empathy and collaboration.
In positioning these works together they plot out an image of New Brunswick that is both critical and hopeful. In 2019, the cyclical nature of our relationship with our environment has never been more palpable—we impact it, it impacts us and we, in turn, impact each other. The artists in this series have encouraged us to consider our immediate surroundings while also connecting us with conversations and issues that span globally—reaching beyond materiality and beyond time to encourage us to see the agency we have in forming the future.
Exhibition Documentation: Allie Ruigrok
Poster Design: Jud Crandall